Our Reston Irrigation Repair Team Keeps Your Lawn Green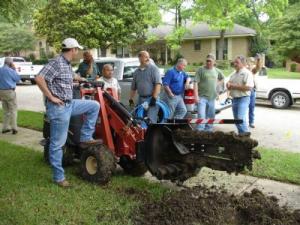 The professionals at our Reston irrigation repair service have over 30 years of combined sprinkler system experience. We work on systems of all sizes from large commercial properties to local residences and do everything from full new system installation to minor pop up head repairs and monthly preventative maintenance.
If you have a sprinkler system, our Reston irrigation repair team can make sure you're getting the absolute most you can out of it. If you don't have one, why not? They will save you time and money in the long run by reducing the amount of time you spend hand watering and by delivering the exact right amount of water to your yard without the guesswork.
Our Reston Irrigation Repair Team Services

Here are just a few of the services that our Reston irrigation repair specialists provide:
Sprinkler repair
New Installation
Spring/Fall tune-ups for your system
General Maintenance and Inspections
Checks and adjustments of sprinkler systems
Sprinkler head repair and replacement
Raising and lowering sprinkler heads
Sprinkler valve replacement
Electronic sprinkler valve location
Repairing broken sprinkler pipes
Sprinkler controller timer replacements
Wiring problems
Coverage problems
Pool rerouting
Rain and Freeze Sensor Installation
Double check assembly replacements
Pump system installs
Overall landscaping
Masonry services
We aren't a one-trick pony either. We do far more than just sprinkler systems. We are a full service outdoor landscaping company. We have techs that specialize in landscape design, hardscaping, outdoor lighting, snow removal, drainage and other services. If you are looking for a complete landscaping contractor, our Reston irrigation repair service should be at the top of the list.
Call us today: 703-574-0923